AFBF Convention Goes Virtual
October 2020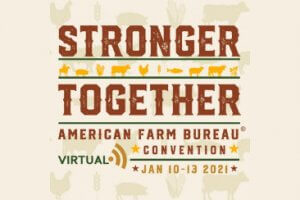 The American Farm Bureau Convention is going virtual.
The 102nd annual convention will be "opening its doors" to the entire Farm Bureau family, including neighbors and friends with free registration. The online event will be held Jan. 10-13, 2021.
This year's theme is "Stronger Together" and will highlight important issues facing agriculture, explore what's next for the food supply chain and offer leadership development opportunities.
For more information on the event, visit https://www.fb.org/events/afbf-convention.